Through its decades of experience, M. Demajo (Graphic Arts) Ltd has always had its hand on the pulse of the industry, offering quality solutions and excellent after sales service.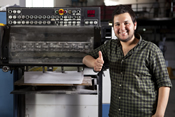 In today's competitive business environment, we have come to appreciate the demand for second hand machinery. Second hand machinery that is backed by rigorous testing and endorsed by the likes of Heidelberg and locally by ourselves. This new segment offers all printers, both local and internationally, the ideal alternative to a brand new Heidelberg. Remarketed equipment from Heidelberg represents outstanding quality and cost efficiency. Proven quality ensures that even in the second stage of its life, Heidelberg equipment retains its exceptional value and reliability. You also have access to the Heidelberg service network. This includes on-site assembly, replacement parts and consumables, and round the clock advice and support.
A certified remarketed machine gives you the reassurance you need and peace of mind you expect when dealing with Heidelberg. If you have a specification of what you want but are not sure what's the best machine to meet your needs, then please contact us and we will be happy to help.